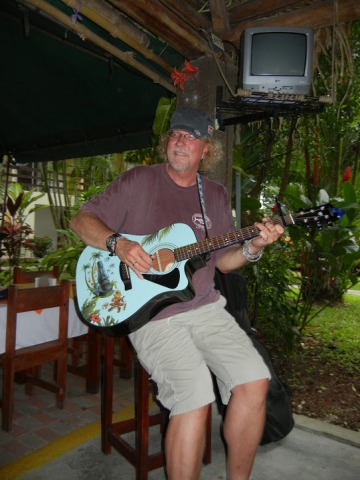 About Tall Paul & Kokopaulli
Tall Paul (Paul Bobal) was born in Cleveland, Ohio and raised in Virginia Beach, VA, where he played keyboards in "garage bands" from the age of 11. After seeing Doc & Merle Watson perform for freshman orientation at Appalachian State University, he taught himself to play acoustic guitar and started playing the college circuit in North Carolina. He then joined Stoney Creek, a band that opened for Hall & Oates, The Doobie Brothers and Jimmy Buffett, before striking out on his own after graduation. Since his move to Nashville, Paul has performed all over the globe and continues taking his music anywhere people will listen. As a solo act, a duo with his wife Kristie and as a member of the band Ramajay Intercoastal he is constantly touring and entertaining enthusiastic crowds, playing almost 200 dates a year!
The influences to his music are as varied as the music itself. Playing the songs of the Beatles, Hendrix, the Doors and Yes early on, were the groundwork for later inspirations James Taylor, Doc Watson, Lowell George, Todd Rundgren and John Hiatt. "Can't Find My Way", Paul's first CD, is a combination of bluesy pop music and modern rocking country. It ranges from acoustic guitar/vocal ballads to a full-blown band rocking through the title track. The songs are about the many facets of relationships, both tender and tragic, humorous and introspective. This CD was voted one of Nashville's Best Independent releases and Paul was voted one of the top Rock Vocalists in the Nashville Scene's Readers Poll alongside John Hiatt.
His second studio CD is titled "Fast Beneath My Feet." Songs include several new originals, collaborations with mark bumgarner, quincy yeates and scott sokoloski plus covers of romeo & juliet (dire straits) and crazy love (van morrison) both mainstays of Paul's live show. Grammy© award winning producer Brent Truitt is once again manning the helm. The CD also features Sam Bush, Jerry Douglas, John Cowan, Bryan Sutton & Scott Vestal.
"Voodoo Doll," contains several new songs alongside familiar ones that have been given Paul's unique musical vision. Co-produced with good friend/guitar slinger Milan Miller and aided by friends Jon Randall, David Grier, Byron House, Ethan Ballinger & Rob Ickes, this CD "feels" as good as it sounds..
And if you hoarde fonts (like some of us) try Paul's font "Tall Paul" from Emerald City Fontwerks (you have to scroll down the page to find it). It is a handwriting font that was designed by TP and has been used by several TV stations, a california winery and an australian rock band!